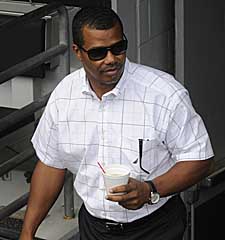 By Matt Snyder
If you're going to break into the house of a rich person, you might as well get your money's worth. And that's exactly what a Chicago-area man allegedly did in the home of
White Sox
general manager Kenny Williams.
Wayne L. Field III, 51, of Chicago has been arrested and charged with residential burglary for his alleged break-in of Williams' home. But the details of the story are pretty funny, via
NBC Chicago
.
Field allegedly wore Williams' clothes and 2005 World Series ring. Field allegedly drank Williams' beer, defrosted a lobster and ate frozen pizza (I mean, who hasn't had a craving for some pizza and lobster while intoxicated?). He also surfed the Internet and "kicked his shoes off on the bed."
Creepy? Of course. Hilarious? Since no one was harmed, I'd say absolutely.
There was no word on whether or not Field's next planned act was to call
Adam Dunn
and offer him even more money.
For more baseball news, rumors and analysis, follow @EyeOnBaseball on Twitter or subscribe to the RSS feed.