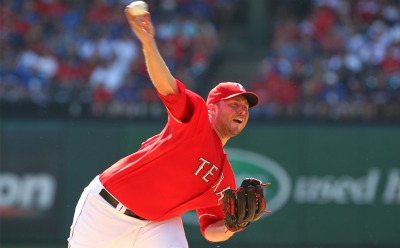 On Thursday, skipper Ron Washington put starting pitcher Tommy Hunter on notice while erasing any doubts about who the team's center fielder will be.
With Josh Hamilton shifting over to left field, the expectation was that Julio Borbon would win the CF job but that David Murphy would have a chance to steal it away.
Not so, as Washington told the Dallas Morning News that Borbon is the starting center fielder. That leaves Murphy to function in the fourth outfielder role that he has done so for the last four years. With injuries and the DH spot available to Murphy, he's been able to amass at least 454 plate appearances over the last three seasons, so playing time will not be too hard to come by.
However, Washington refused to hand anyone a rotation spot beyond C.J. Wilson and Colby Lewis. That means three spots are wide open, with Neftali Feliz and Alexi Ogando being given a shot to win a spot in the rotation after pitching out of the bullpen last season. They'll have to battle Eric Hurley, Brandon Webb, Matt Harrison, Scott Feldman, Derek Holland and... Tommy Hunter.
Yep, Tommy Hunter, even though the right-hander posted a 3.73 ERA in 128 innings. However, his poor strikeout rate of 4.8 batters per nine and luck on batting average on balls in play along with a high stranded-runners percentage mean his xFIP was a high 4.70.
However, when asked if Hunter's absence from a guaranteed spot meant he needed to improve, Washington said it was about something else.
"It's more of a don't take anything for granted type of thing," he said. "There is an opportunity for him. There is as much opportunity for him as their is for anyone else. But baseball is a competitive sport and he's got to seize the opportunity."
It's a smart move to make. Hunter may have impressed, but he also pitched sparingly in the postseason and the team appears to be aware that he pitched over his head. While Hunter has to be considered a heavy favorite for the rotation along with Feldman and Holland, forcing him to compete in spring training can only lead to good things.
Washington also added that as long as Brandon Webb is healthy, he'll grab a rotation spot.
-- Evan Brunell
For more baseball news, rumors and analysis, follow @cbssportsmlb on Twitter or subscribe to the RSS feed.