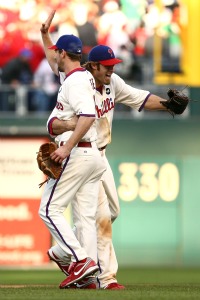 Jayson Werth
and Cliff Lee had their introductory news conferences Wednesday, and there seemed to be a story behind the story.
Werth and Lee became BFFs when Lee was in Philadelphia before, and as both approached free agency this winter apparently they had talked about landing in the same place. Werth signed first and sort of scuttled any chance of a reunion by signing for a last-place team and hogging half the payroll. The
Nationals
reportedly made inquiries on Lee, but weren't considered serious players in the negotiations.
Nevertheless, Werth was apparently upset when Lee called to break the news that he was heading back to their old digs.
"When he found out I was coming here," Lee
said,
"he wasn't the happiest person in the world."
It could be Werth was bummed about not being reunited with his buddy. It could also be that he's upset the
Phillies
cried poverty when it came to re-signing him, then magically came up with $120 million to sign Lee. So he gets to sit in last place and watch Lee and the Phillies play NL wrecking ball.
"The news in Philadelphia, they got their boy back, I guess," Werth said. "That's fine. I think that's good. I like that. If you're going to be the best, you've got to beat the best. They make their plays, and we're going to make ours."
VIDEO:
Lee meets the press in Philadelphia:
-- David Andriesen
For more baseball news, rumors and analysis, follow @cbssportsmlb on Twitter or subscribe to the RSS feed.