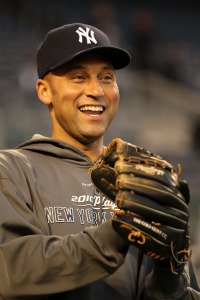 Late last season, Major League Baseball and the players association reached an agreement to stop discussing contract negotiations through the media. And just weeks ago, the
Yankees
and Casey Close, the agent for free-agent shortstop Derek Jeter, agreed not to disclose their negotiating positions.
And yet here we are, not surprisingly, with everybody's laundry hanging out on the public clothesline. The Yankees, we learned earlier in the week, have offered Jeter three years at $45 million. And now, Bill Madden of the
New York Daily News
reports that it's thought Jeter's starting point is six years at $150 million -- and that he's unwilling to budge from the annual value of $25 million.
The Yankees have taken a hard line, saying this is a baseball contract, not a golden parachute, and Jeter is a 36-year-old infielder coming off his worst season. Add the $45 million, which is significantly over market in a strict baseball sense, to the $200 million the Yankees have already paid Jeter, and he'll have earned more money than anyone in baseball history not named
Alex Rodriguez
.
Close, however, is seeking a lifetime achievement award that recognizes Jeter's iconic status and the hidden value of having Captain Clutch in pinstripes. In what I'm sure just is a coincidence, the average annual value of the seven remaining years of Alex Rodriguez's contract is $24.9 million, but as Madden points out, the circumstances of A-Rod's contract were much different than Jeter's situation. Rodriguez was coming off a monster year as the Yankees' cleanup hitter, was 32 and appeared certain to be on his way to becoming the all-time home run leader (and word of his steroid use had not yet come out).
There's simply no way the Yankees, even with their financial means, can pay Jeter $25 million a year -- especially considering that since they pay a 40-percent luxury tax, it would cost them considerably more than that. And there's little chance someone else is going to pay Jeter more than the $15 million a year the Yankees are offering. So Jeter is going to have to find a way to soften his stance while not looking like he caved.
UPDATE:
Close responded to several media requests for comment with a
statement
that the report of Jeter's position is "simply inaccurate," and declined to elaborate. If Jeter's demands are substantially less than the 6/$150M report, don't be surpised to see a specific number leak later today -- Close's client is getting roasted in the court of public opinion.
-- David Andriesen
For more baseball news, rumors and analysis, follow @cbssportsmlb on Twitter or subscribe to the RSS feed.