The major baseball awards will be announced next week, and the staff at MLB Facts and Rumors is making our choices this week. Today, David, Evan and Trent name their Manager of the Year selections. As with the BBWAA awards, a first-place vote is worth seven points, second place four, third place three, fourth place two and fifth place one.
While the National League award is for the best pitcher in the league, the American League vote seems to be a referendum on the BBWAA and its acceptance of newer statistics and abandoning the win as its basis for measuring a pitcher's success.
AMERICAN LEAGUE CY YOUNG AWARD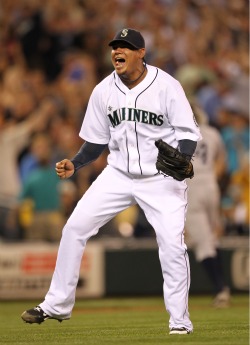 David Andriesen
1.
Felix Hernandez
, SEA
2.
David Price
, TB
3.
CC Sabathia
, NYY
4.
Jon Lester
, BOS
5.
Jered Weaver
, LAA
Some people will knock Hernandez for his team's offensive futility, but I won't. And if you take wins out of the discussion, he wins easily. Price edges Sabathia with an ERA nearly half a point better. If it seems strange
Cliff Lee
isn't in this discussion, keep in mind he missed the first month of the season.
Evan Brunell
1. SP Felix Hernandez, SEA
2. SP CC Sabathia, NYY
3. SP
Francisco Liriano
, MIN
4. SP Jon Lester, BOS
5. SP David Price, TB
Lee stays off this ballot because in his time in Texas, he wasn't quite Cy Young-worthy as compared to full seasons of the above. Hernandez was otherworldly, but let down by one of baseball's worst offenses in history. With the run support of the
Yankees
, Hernandez very well could have reached 25 wins.
C. Trent Rosecrans
1. Felix Hernandez, SEA
2. David Price, TB
3. Francisco Liriano, MIN
4. CC Sabathia, NY
5. Cliff Lee, SEA/TEX
I think enough has been said about the Hernandez vs. the world, but I'm not sure Price or Liriano have quite gotten the credit they deserve. So many people have set it up as Hernandez vs. Sabathia, and I'm not so sure that's the right question.
NATIONAL LEAGUE CY YOUNG AWARD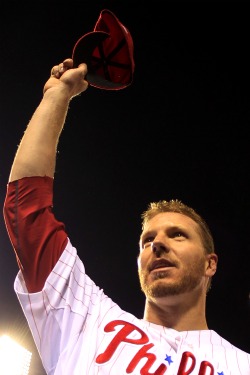 David Andriesen
1.
Roy Halladay
, PHI
2.
Adam Wainwright
, STL
3.
Josh Johnson
, FLA
4.
Ubaldo Jimenez
, COL
5.
Tim Hudson
, ATL
This one is really close, but I'm letting Halladay's perfect game and NL lead in innings pitched put him ahead of Wainwright, who was second in the NL in wins and ERA. Jimenez came back to earth after his ridiculous first half, as did Johnson, who missed the last month but still finished with the ERA title.
Evan Brunell
1. SP Roy Halladay, PHI
2. SP Adam Wainwright, STL
3. SP Josh Johnson, FLA
4. SP Ubaldo Jimenez, COL
5. SP Tim Hudson, ATL
Halladay got more than he bargained for with Adam Wainwright neck-and-neck for the Cy race, but Halladay gets the nod due to innings pitched and xFIP, which clearly shows that Halladay was the better pitcher. His domination is evident to all.
C. Trent Rosecrans
1. Roy Halladay, PHI
2. Adam Wainwright, STL
3. Josh Johnson, FLA
4. Ubaldo Jimenez, COL
5.
Tim Lincecum
, SF
It seems to be hard to believe that Halladay didn't live up to expectations -- and considering some expected him to win 30 games, he didn't live up to the highest of expectation. But he still had an amazing season and should win this one going away against some pretty good competition. Still, the fact that Halladay did what he was able to do in a bandbox of a ballpark, it's quite impressive. Kind of like the Rookie of the Year, give me any of these guys in a Game 1 and I feel pretty good.
MLB Facts and Rumors AL Cy Young Award
It's at least a runaway here, as Felix Hernandez gets the nod, making stat-heads happy everywhere. CC Sabathia and David Price tie for what Ricky Bobby would call "first loser." I still have enough faith in the BBWAA that it'll get this one right, despite so many doubters.
MLB Facts and Rumors NL Cy Young Award
The voting isn't as close as the race, but Roy Halladay is the unanimous winner. Expect the real vote to be similar.
-- C. Trent Rosecrans
For more baseball news, rumors and analysis, follow @cbssportsmlb on Twitter or subscribe to the RSS feed.