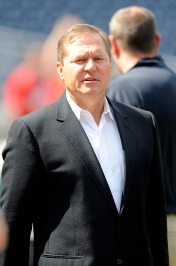 Scott Boras thinks the
Phillies
are on financial par with the
Yankees
. And he thinks
Jayson Werth
is a bigger free agent than
Carl Crawford
.
This is not good news if you're a Phillies fan who would like to see Werth continue to wear red pinstripes rather than dark blue ones.
"We have, in my mind, probably the most coveted offensive player in the free-agent market," Boras
told MLB.com.
"Carl Crawford is a really great player, but the truth of the matter is, Werth scores as many runs, and his on-base percentage is the same. Werth is a guy that can play center field and has played center field recently. He's a Gold Glove-type outfielder. Crawford is, too. But the big difference is that Werth has 87 home runs over the last three years and Crawford has 42."
Uh oh. This could mean Boras is going to hold out and see how much Crawford gets (the answer: enough to buy Paraguay) and then expect teams to go one better for Werth. Can the Phillies afford to do that?
General manager Ruben Amaro Jr. said recently that they can, but the numbers the Phillies already have on the books are pretty formidable. They have $147 million committed to 16 players next season. If they keep all those players, they still have to pay nine more, and if one of them is Werth at $15 million or more, that puts the Phillies in
luxury tax territory,
a land currently inhabited only by those guys from the Bronx. The tax cutoff is $178 million.
Boras thinks the Phillies should be in that neighborhood.
"The Yankees are a Goliath," Boras said. "George [Steinbrenner] built them with the idea of the word
best.
The Phillies are now Goliaths. The reality of it is, they have the ability to do what they need to do to retain their players. It's merely a matter of choice. ... Somebody asked me if they can have a $200 million payroll. Of course they could. It would be good business to do so."
The message: "Hey, Phillies fans, if your team doesn't pay Jayson Werth, it won't be because I made preposterous demands, it will be because the Phillies chose not to when they totally could." So much for the new rules about not using the media in negotiations.
At this point, it's not looking good for Werth's return to Philly. With
Domonic Brown
ready to play, and earning around the minimum, it really doesn't make much sense for the Phillies.
-- David Andriesen
For more baseball news, rumors and analysis, follow @cbssportsmlb on Twitter or subscribe to the RSS feed.