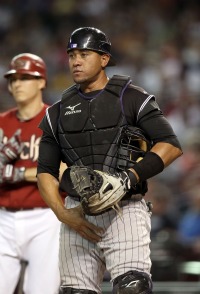 What's the deal with the
Blue Jays
? First they trade a player to be named later to the
Rockies
for catcher
Miguel Olivo
, then they promptly decline the 2011 option on Olivo's contract, paying a $500,000 buyout. So at this point, they are out a PTBNL and half a million dollars, and they have nothing to show for it.
Well, that's not entirely true. Olivo is now their property, so if he signs elsewhere, they get the compensatory pick for him as a Type B free agent, which is a sandwich pick after the first round. Is a sandwich pick worth $500,000? Actually, it might be, especially in a year when the draft is as deep as next year's is shaping up to be.
Let's look at the last really deep draft, in 2005. Sandwich picks
that year
included
Clay Buchholz
and
Jed Lowrie
, plus others who have seen time in the majors (Travis Buck,
Garrett Olson
, Ryan Tucker,
Cesar Ramos
). Is it worth $500,000 to have a Buchholz or Lowrie under control at low cost for six years? Definitely. But the Jays would have to hope they pick well there.
So maybe the Jays aren't nuts. Except, now general manager Alex Anthopoulos says the draft pick was
not
the reason he made these decisions. Actually,
his comments
in a conference call with reporters didn't leave things completely clear.
"No [on making the moves to get the compensation pick], and I've been reading a lot of that today. There's a lot of components with that. We didn't talk about the players that we pursued last offseason. When we signed John Buck, we were really agonizing over -- at the time -- Miguel Olivo and John Buck. ... Collectively, we elected to go with John Buck. Knowing that John's a free agent and, as we continue to gather information, whether it's just getting a sense of a market and so on, it seems to be, and rightfully so, that the market for John Buck is going to be incredibly strong."
OK, so the Jays acquired Olivo so they could keep him as insurance because they think Buck is going to end up out of their price range. And they definitely need a veteran catcher as they work Catcher of the Future
J.P. Arencibia
into the majors next season. So why not just pick up Olivo's $2.5 million option? If they are able to bring back Buck, they could just trade Olivo. If they do lose Buck and then try to sign Olivo, it's not like the catcher's agent is going to give them credit for the $500,000 they already paid him -- that's a sunk cost. Now every dollar over $2 million they pay him for next year would be money they might as well have set on fire. And it's almost certainly going to take more than $2 million to sign him.
Another danger: In order to get the sandwich pick, a team has to offer a player salary arbitration and the player has to decline. So the Jays will have to offer, and what if, Buck or no Buck, Olivo accepts? After batting .269, the second-highest average of his career, he's not going to get less than his $2 million 2010 salary in arbitration, plus he's already got half a million in his pocket. It's a win-win for Olivo.
And it looks like a lose-lose for Toronto. Maybe they've got an end game we're not aware of yet, but this is a curious series of decisions.
-- David Andriesen
For more baseball news, rumors and analysis, follow @cbssportsmlb on Twitter or subscribe to the RSS feed.