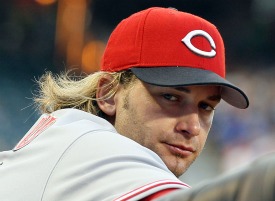 Although the
Reds
have picked up
Bronson Arroyo
's $11 million contract, the two sides are working on a new three-year deal through 2013, Arroyo tells CBSSports.com.
Arroyo went 17-10 with a 3.88 ERA last season and has won 70 games in the last five years for the Reds. Perhaps more importantly to the Reds and their young pitching staff, he's pitched at least 200 innings in each of the last six seasons.
Reds manager Walt Jocketty had said last month that the team would pick up his option for 2011.
Arroyo had signed a two-year, $25 million extension with the team in February 2007. The Reds acquired Arroyo from Boston in March of 2006 in exchange for Wily Mo Pena.
Arroyo was traded by the
Red Sox
after signing a three-year, $11.25 million contract, but before ever pitching for Boston on that contract. Earlier this season, Arroyo said he wouldn't give the Reds a "home-town discount" with a below-market contract, "I've made that mistake before," he said.
Just last season, the Reds re-signed
Scott Rolen
to a three-year deal, restructuring his previous deal, which was through 2010. Rolen is signed through 2012 with the Reds. It looks like Jocketty wants to keep some of his veterans around to help out with the younger players. Arroyo, in particular, has served as mentor to young Reds pitchers such as 2009 first-rounder
Mike Leake
.
Cincinnati also has a $1.75 million option on outfielder
Jonny Gomes
it is expected to pick up, while the team is unlikely to pick up options on shortstop
Orlando Cabrera
and starter
Aaron Harang
.
UPDATE:
The Reds have offcially picked up the options on Arroyo and Gomes, while declining the options on Cabrera and Harang. Jocketty has said the team would like to bring Cabrera back, but at $4 million. The team owed Cabrera $1 million for buying out his contract. Harang was given $2 million to buy out his $12.75 million option.
-- C. Trent Rosecrans
For more baseball news, rumors and analysis, follow @cbssportsmlb on Twitter or subscribe to the RSS feed.