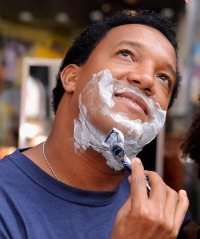 It's a long way from working out with a winter league team to playing in the majors, but even the thought of seeing Pedro Martinez back on a mound is intriguing.
The 39-year-old, who didn't play this season but hasn't retired, has started training with the Licey
Tigers
in the Dominican Republic, according to the
Associated Press.
He is trying to decide whether to join the team.
The three-time Cy Young winner (pictured making some sort of ... shaving appearance in New York this summer) struggled in his last full season with the
Mets
in 2008, putting up a 5.61 ERA that was more than two and a half points higher than his career average.
It looked like he was done, but then he came back and played a successful half season with the
Phillies
in 2009, going 5-1 with a 3.63 ERA and starting two World Series games. There had been talk of the Phillies again signing him for a late-season run this year, but he said he wanted to stay home in the Dominican with his family. He did not, however, rule out pitching in 2011.
If he has a good experience this winter and wants to pitch in the U.S. next year, would somebody sign a guy who was almost 40 and had missed a season? For most people, no. For a guy who was arguably the best pitcher of his generation, definitely.
-- David Andriesen
For more baseball news, rumors and analysis, follow @cbssportsmlb on Twitter or subscribe to the RSS feed.