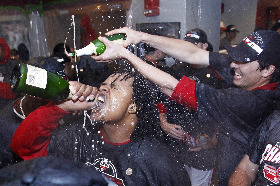 It was a rookie mistake, I realized. I'd remembered to wear my rain jacket in the
Reds
clubhouse after
Jay Bruce
's homer clinched the team's first division title in 15 years, but I forgot to put my hood up.
I heard
Homer Bailey
before I saw him, and he doused me with champagne -- the hood would have served as protection and camouflage. Instead, it was useless and I was drenched.
Any baseball writer worth his salt knows to prepare for the celebration. It looks fun -- and it kinda is -- but it makes the usual game-writing impossible. It's tough to talk to players, who are more interested in dousing teammates with alcoholic beverages than talking to reporters. And when they do talk, they're constantly interrupted by liquid being poured over their heads. Still, it's pretty fun to see.
It was nice to see
Aaron Harang
, who is having a terrible season and is unlikely to be a part of the postseason roster, enjoying himself. It's a team game, and it's more noticeable than anywhere as Harang celebrates as much as the hero, Bruce.
You could see the joy the players got in dousing manager Dusty Baker, who despite his critics, rarely has any in his own clubhouse.
Brandon Phillips
had never tasted alcohol until he had beer and champagne poured over him -- and at one point you could tell he didn't feel like he'd be tasting another Budweiser anytime soon as he spit out what got into his mouth.
After finishing off the champagne, veteran reliever
Arthur Rhodes
led the troops out onto the field to celebrate with the thousands that stayed in the stadium to celebrate.
Jonny Gomes
-- who celebrated with the 2008
Rays
-- sprayed fans with champagne as he wore his ski goggles.
Players took a lap, high-fiving fans anywhere near the fence. One woman stole Bruce's hat before he pulled it back.
Phillips thanked the fans on the microphone, then passed it to
Joey Votto
as fans chanted "M-V-P" for the first baseman, who hugged the night's hero before passing Bruce the mic. Bruce then addressed the crowd.
Owner Bob Castellini, wearing a Reds pullover and track pants over his regular clothes to keep from stinking of champagne and beer, handed
Orlando Cabrera
a box of cigars. Weeks ago, Castellini told Cabrera he'd give him a box of the "best legal cigars in the U.S." -- and he paid off with a box of Liga Privada No. 9 cigars. Cabrera then handed out the cigars to anyone close and also used a torch to light them for anyone who wanted one.
Finally, as TV cameras continued to interview just about anyone in uniform, Castellini saw general manager Walt Jocketty and gave him a hug. Castellini promised to bring Cincinnati a winner four years ago when he bought the team, and he finally had.
--
C. Trent Rosecrans

For more baseball news, rumors and analysis, follow @cbssportsmlb on Twitter or subscribe to the RSS feed .