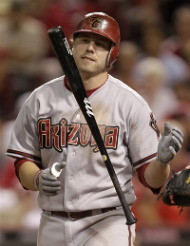 There has been a lot of attention on the
Diamondbacks
breaking the single-season record for team strikeouts, which is actually good, because it points out that strikeouts are overrated as a "bad" outcome. A strikeout is just an out, and even while being the strikeout-ingest team in history, the Diamondbacks are solidly average offensively (eighth in the National League in runs scored).
But the strikeout-related landmark third baseman
Mark Reynolds
is on the verge of reaching at least has to be considered interesting. As noted by
baseball-reference.com,
Reynolds is on pace to become the first regular player in history to finish with a strikeout total higher than his batting average (or, technically, his batting average multiplied by 1,000).
Reynolds is batting .200 with 206 strikeouts. No other non-pitcher has had more strikeouts than batting-average points while making more than 35 plate appearances. Reynolds has the three highest single-season strikeout totals in major-league history -- he's the only man ever to top 200, and his 223 last year is the record.
Actually, the .200 part of his stat line is the troubling part, not the strikeouts. And it's fairly impressive that someone batting .200 could get enough playing time to amass 206 strikeouts.
-- David Andriesen
For more baseball news, rumors and analysis, follow @cbssportsmlb on Twitter or subscribe to the RSS feed .