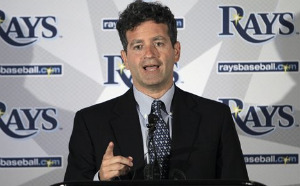 Stuart Sternberg held a news conference Monday to announce that it's time for the
Rays
to explore ballpark options in the regional area of Tampa Bay, not just in St. Petersburg and Tampa.
The Rays currently play at Tropicana Field in St. Petersburg under a lease that runs through 2027.
"Our ability to compete and, quite frankly, to survive rests on our ability to attract people and businesses to our ballpark," Sternberg
said according
to the
Tampa Tribune
. "Our customers are our fans. And like any other business, we need to be in a location that is convenient for our fans to reach us."
St. Petersburg mayer Bill Foster
reacted
to Sternberg's announcement by saying, "Like it or not, we are married and joined at the hip until 2027," the
Tribune
reports.
Despite recent efforts to spruce up the park and a winning baseball team, attendance remains among the lowest in baseball. Sternberg feels if the Rays hope to remain a viable franchise, either attendance must spike or a new park must be built.
"When I assumed control of the Rays almost five years ago, it was commonly assumed that winning would change everything at Tropicana Field," Sternberg added
via
MLB.com. "Everyone believed that with a winning team on the field, fans would fill the stands. That has not been the case."
Sternberg spoke about needing everyone to work together to begin a regional search for a park and, rising "above municipal interests," he noted. In March, an independent committe named the ABC Coalition recommended two sites in Tampa -- downtown and West Shore -- and one in the Pinellas county. Sternberg said that the team's own findings jived with the committee's recommendations, which also did not recommend downtown St. Petersburg and fairgrounds east of Tampa.
His comments directly violate the lease with St. Petersburg, as the contract stipulates the team may not directly or indirectly initiate or negotiate agreements for a new home.
"I expect a strong comment from the legal team of St. Petersburg," commented Alan Bomstein of the ABC Coalition.
Negotiations between St. Petersburg and the Rays collasped earlier in the year about a waterfront stadium being built in the city.
Geoffrey Rapp, a sports law expert at the University of Toledo, also weighed in, saying that cities and states outside of Florida may enter the scrum.
"There are a lot of cities that certainly think they can support a major-league team," Rapp said. "Now, knowing one is willing to move could be shark bait in the water for people to put together packages to attract that team."
There has been no indication so far that Sternberg is considering completely vacating the Tampa area.
Without discussion of a new park in the region, "the air of uncertainty over the future of Major League Baseball in the area will continue to linger," Sternberg said.
The Rays are currently 42-27, one game out of first place in the AL East behind the
Yankees
.
-- Evan Brunell

For more baseball news, rumors and analysis, follow @cbssportsmlb on Twitter.