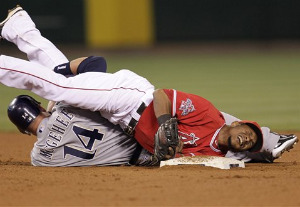 The
Angels
are now without their two main shortstops as Macier Izturis hit the disabled list on Wednesday because of a strained left forearm.
The other shortstop,
Erick Aybar
, has avoided the disabled list thus far after seeing
meniscal damage
to his left knee, injured on a
Casey McGehee
takeout slide Monday. But if Aybar does hit the disabled list, the Angels are suddenly looking at being without a major-league caliber shortstop for a long period of time.
Right now, the Angels are asking former top prospect
Brandon Wood
, handed the third base job out of spring training, to shift back to shortstop, the position he played for years in the minor leagues. However, questions remain with Wood's bat as he is hitting a paltry .156 in 128 at-bats.
The team's other option is a 31-year-old journeyman in Triple-A, so general manager Tony Reagins
admitted to
the
Los Angeles Times
that the team may have to look outside the organization for shortstop help. Of course, a lot depends on how long Izturis and Aybar are out for. If it's just the minimum 15 days, the Angels may opt to scrape by or acquire a capable fill-in that can head to the bench. If it's much longer than 15 days, then clearly the Halos will have to pursue a higher-caliber player.
Who could the team pursue? Here's a list.
-- Evan Brunell

For more baseball news, rumors and analysis, follow @cbssportsmlb on Twitter.